WELCOME TO THIS WEEK'S EDITION OF SALIENCE
This week we look at the hospitality business that is capturing investor confidence, how Covid-19 has impacted female entrepreneurship, the latest innovations that could create our 'digital twins' by 2030 and the project by Google that will extend internet connectivity to remote locations. Plus, we uncover the newest design for PPE that could quickly become the ultimate accessory for air travel…
Let us know your thoughts on this week's news by emailing rmorganevans@sapiencecomms.co.uk.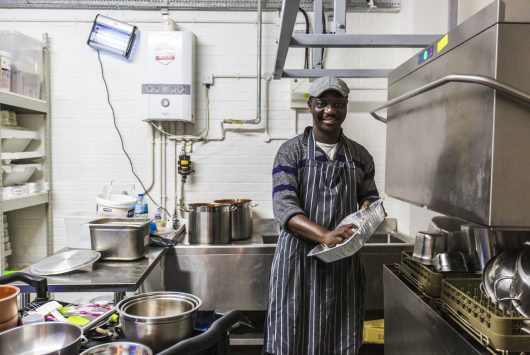 Investors shake hands with Karma
Whilst lockdowns have undoubtedly put pressure on the hospitality industry, new businesses have emerged that could help restaurants diversify their income streams. One notable case study is rental kitchen start-up Karma Kitchen, who raised £252m in a Series A funding round that had a goal of just £3m (yes, you read that right). Sifted have a fascinating read all about how the company has captured investor confidence. Read it here.
COVID-19 and Women Entrepreneurs
Prior to lockdown, the share of female entrepreneurs was accelerating, jumping from 4.6% in 1976 to 42% in 2019. However, it seems that COVID-19 has no care for that, with women holding 60% of the jobs that have already been lost owing to the outbreak. Forbes explores the policy changes necessary to protect women entrepreneurs. Read the article here.
Say hello to 6G…and your digital twin
Just when you'd heard enough of 5G, along come Samsung with some predictions of what 6G holds in store. According to the South Korean company, the technology will deliver not only faster broadband for mobile devices, but also enable greater vehicle autonomy and even introduce volumetric holograms and 'digital twins' that allow someone to be in two places at once. Read more about this brave new world in Venture Beat here.
Solving the internet connectivity gap one Loon at a time
While Samsung may be looking ahead to connecting future generations, Google have been seeking to bring the internet to the existing 4 billion people who currently don't have access to it. In one of their most ambitious project, "Google Loon" has seen balloons being sent into space, to connect people in difficult to reach areas of the world. In its first launch this month, Loon has sent 35 balloons in constant motion above Kenya, connecting some 35,000 users to the internet. You can read more about the launch in Quartz Africa here.
And finally… Haute-PPE
We've all seen a Hazmat suit, typically on CSI or Breaking Bad. However, as we enter a new era of pandemic-awareness, it seems people are looking to take PPE to the next level. VYZR, a nascent personal protective gear specialist has launched a futuristic suit that blends PPE with a NASA spacesuit. BioVYZR has already received 50,000 units on pre-order for the not-so-nifty price of $249. You can see for yourself or even buy your own via the Houston Chronicle here.